What's brewing in Philippines? – 11 June 2013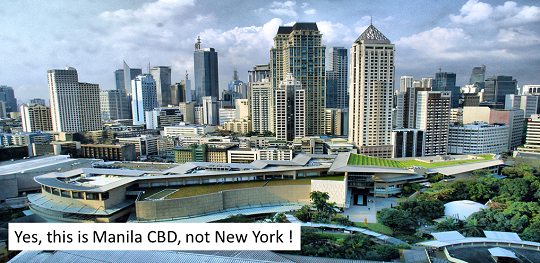 How does gross rental yields of up to 10 to 12% sound to you?
When I was in Manila last year on a due diligence trip, I saw sky scrapers rising, packed malls and lots of folks hanging around purposefully. Finally, helmed by a more honest and reform-minded President Benigno Aquino III, affectionately known as Noynoy, a cleaner and better government is attracting more foreign investments and creating the stable investment climate that is conducive to a surging property market. Unfortunately, according to current Philippines constitution, one can only serve as the president for 6 years. With 3 more years left in his tenure, one hopes his eventual successor can keep up the momentum in the long journey ahead.
So what's driving demand?
1) IT-related support activities such as call centers and business process outsourcing (BPO) firms have boosted demand for rental housing. Some estimate that the Philippines will overtake India by 2015 as the hub for BPO. Already, some Singapore companies have located backroom functions to the Philippines.
2) Remittance from 10 million Overseas Filipinos. How much is the total remittance worth? About USD23 billion in 2012, according to World Bank estimates and 60% of these remittances go directly or indirectly to the real estate sector, especially into the low-end to mid-range residential housing projects in regions near Metro Manila. The strong local demand support and the fact that most of them take very little loans from the banks (high interest rate) means that there is no frothy bubble building up on the back of cheap loans (think Singapore!)
However, with vacancy rates as high as 12 to 15% in some parts of Metro Manila, one must still be very careful when choosing a property investment, whether it is commercial or residential.
Before we go Yayy, let's do it, consider some of these must-know
To buy a Philippine property as a foreigner,
1) You can buy a condominium unit on your own, if not more than 40% of the building is foreign owned
2) You can buy the property through a Filipino spouse
3) You can buy through a company incorporated in the Philippines with at least 5 shareholders, out of which 60% must be locals
4) You have an investment/Special Retirement Visa for long term stay foreigners
Main Taxes you'll be subjected to upon Purchase
1) VAT-10%
2) Document tax (aka Stamp Duty) – 1.5%
3) Transfer tax – 0.5%
4) Registration fees – 0.25%
5) Rental income tax (where applicable) – 5.13%
Main Taxes you'll be subjected to upon Disposal
1) 6% of Gross Selling Selling Price or Market Value
So, if you are intending to buy and rent out a Philippines condominium, what is your true rental yield?