Landlords and your agents, more effort please – 28 May 2015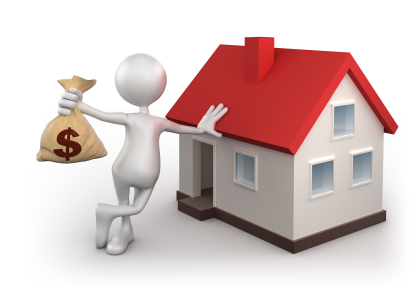 It is clearly a tenants' market today. Tenants are spoilt for choices and where possible, they want a better location, a newer place and new neighbours. And did I forget to mention, at a lower rental than what they had previously paid.
Yet, as I survey the scene, some landlords are still trapped in the "good old days" of a few years back, where they could be very selective and adopt a take it or leave it attitude.
Here are some "No, nos" I've observed and if you're guilty of it, time to pull your act together.
1) Lighting without cover exposing bare bulbs. First impression counts. Your potential tenants are not scientists and are not interested to know the inner workings of your lightings. Clothes please.
2) Bare windows with no curtains. "Oh, I'll put it up when the tenant ask for it. " Seriously, you won't get a second chance. Never doubt the power of curtains. Good curtains. Not the ones that look like you recycled them from your grandma's moth bitten ones.
3) Tired looking walls. A fresh coat of paint can brighten up the whole place. Dirt streaked across and the occasional blood stain will not be interpreted as an Andy Warhol masterpiece.
4) Unfurnished. Yes, there will be the odd few tenants who demand an empty place. But by and large, furniture gives a warm fuzzy, move in feel. And no tenant will complain about free furniture, a big tv and the usual creature conforts. It's safe to leave out the mattress as most tenants will prefer to buy their own mattresses. That said, $200 will easily get you a decent one. And don't forget comforters and pillows for that complete "Awww" impact.
5) Toilets that look repulsive. Easily a deal breaker when everything else seem to be going fine. The smell of mothballs is revolting. You are not preseving Jurassic bones in the toilet, are you? Get rid of all visible stains. It should smell fresh. Not musky and certainly not antiseptic like a hospital.
6) Tidiness please. I've seen stickers on furniture, chairs arranged like the place had been used as a gambling den and toys strewn all over.  Aim for that showflat look. When tenants see how "showflat-ish" the place looks, subconsciously, they get the message that this is the standard to maintain when they move in.
There's a lot more tips but if landlords and their agents can do the above, it's more than half the battle won in the war for tenants who will call the shots for the next 2 years at least.
Douglas
Our Best, Always!
Where will the High Speed Rail Terminal (HSRT) be located in Jurong East? – 5 May 2015
As the only logical town to locate the new HSRT, the not so secret announcement that it will be located in Jurong East caught nobody by surprise. What has not been announced is the exact location
A quick study of Jurong East quickly identified two potential sites. Site A is where Jurong Country Club is located. Its lease will run out in 21 years. Taking over the plot to build the HSRT will face little resistance. Also, it's much easier to deal with just one party for the acquisition.
Site B, bounded by Boon Lay Way and Toh Tuck Ave is another prime candidate. Currently housing several warehouse complexes and some industrial buildings, it offers a land size big enough and is further away from the residential area.  We tend to favour Site B.
What is most tricky is the compulsory land acquisition that must happen before the vision becomes a  reality.  Having the High Speed Line up and running by 2020 is too stretched a goal. Don't bet on it. 2025 will be a more realistic deadline.
Mall operators in Jurong East will be delighted at the prospect of holding their tenants once more ransom with the heavier footfall that should come their way. Residential landlords may fare otherwise. It's not likely you will get more tenants renting from you just because one can now catch the High Speed Train at Jurong East. In fact the heavier crowd may just put off potential tenants from renting in Jurong East. It's very interesting how this may play out and you'll be sure we'll have our eyes on the ground.
Our Best, Always!
EC, EC on the wall, who's the fairest of them all? – 4 May 2015
Looking for an EC? An additional 5,000 executive condominium (EC) units is expected to test market appetite this year.
Even without this additional new inventory coming your way, there are existing unsold units, numbering slightly more than 2,000 spread across 12 launched EC projects.
Latest data from the Urban Redevelopment Authority (URA) showed that the vacancy rate of available and completed ECs is 15.1 per cent.
Recent EC sales have not fared very well. The Amore, launched in January 15, still has ¾ of its inventory unsold. The Terrace, launched in 3Q2014 also has lots of units for you to choose from. Both projects are in Punggol.
The game changer for EC launches from this year onwards is the scrapping of second-timers' exemption from having to pay a resale levy which can go as high as $50,000 if one is upgrading from a HDB Executive Flat. Most upgraders hail from 4 and 5 room flats and they can expect to pay $40,000 and $45,000 in resale levies respectively.
New EC launches this year will have to price units even more competitively, knowing that buyers can opt for earlier launched ECs that do not require the payment of a resale levy. Buyers, the ball is in your court.
If you can pass your total debt servicing ratio (TDSR) that caps outstanding liabilities of borrowers at 60 per cent of gross monthly income and the mortgage servicing ratio (MSR) of 30 per cent for EC units, you are essentially getting a condominium that is 15 to 20% cheaper than comparable private condominiums. The flipside is that you are subjected to stricter eligibility conditions, resale criteria and minimum occupation period. The rewards could be sweet however when your purchase becomes a full-fledged private condos 10 years after TOP.
Pricing and location will be your key considerations. City Developments' project at Canberra Drive, adjacent to the future Canberra MRT station has fulfilled the location check list. Let's see if City Development will get the price right down to the sweet spot.
For a snapshot of what's in the pipeline, check out the table below.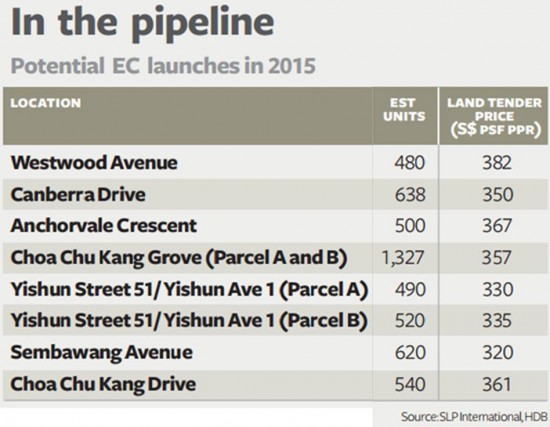 Our Best, Always!