The Singapore property market after GE2015 (Now what?) – 14 Sep 2015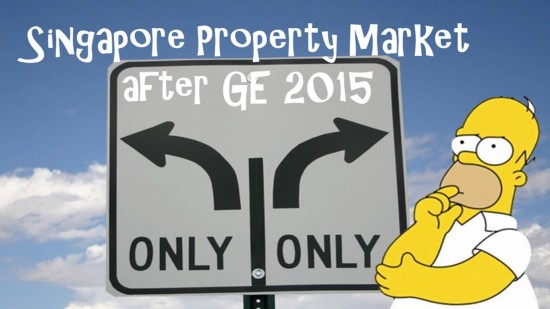 After a convincing victory by the PAP, folks have asked me which way the property market will go.
The Singapore government's mandate to rule has been built on many things, among which, its management of Singapore's economy and lifting living standards.  PM Lee has said his government will continue to carry out policies which they feel necessary, even if they are unpopular. One policy target comes to mind, and that is to increase Singapore's population (resident and non-resident).
Singapore has been, and will remain a pragmatic country. Assuming the stretch population target of 6.9 million is on track, the government cannot wait for an increase in 1.4 million people to come from organic growth of its current population. Total life birth in Singapore average about 40,000 in recent years. Total death averages about 19,000, bringing a net increase in population of about 21,000 a year. To hit a target of a 6.9 million population from the current 5.5 million, it would take 67 years based solely on organic growth. That will take too long. And it is going to be expensive. Even if you can turbocharge the birth rate, imagine the additional schools, and teachers required to match the population growth. Imagine the extra childcare facilities and  baby and infant medical care necessary to be put in place. It doesn't make economic sense and is not cost effective.
The standard argument for population growth and its benefits to the economy is that it brings in more hands to work for production and contributes to economic growth.  The increase in population leads to the increase in demand for goods and when the market for such goods expands, economies of scale can be achieved and we can all live the "cheaper, better, faster" slogan.
To boost the economy immediately, you need ready, qualified workers, who are already well trained and can hit the ground running.   In short, you need to import workers if you don't have enough of them in Singapore.
On 14 Sep, it was reported that Singapore plans to give citizenship to between 15,000 and 25,000 foreigners each year as part of the strategy to grow Singapore's core citizen numbers. There is no mention how many additional foreign workers will be brought in but the direction is crystal clear. Singapore's population will increase.
The challenge ahead will be to ensure  that social and business infrastructure here can support the weight of a more crowded Singapore.
Property owners, the light at the end of the tunnel is here. The excess supply in the property market today will eventually be mopped up over time and if the government calibrates property supply competently and continues to make Singapore an attractive place to live, work and play, your property investment should appreciate considerably.
Think about it. Plan ahead. Not all properties perform the same. Feel free to reach us for advice.
Douglas Chow
Principal Coach