(Property) Development Plans for Singapore – 25 Aug 2013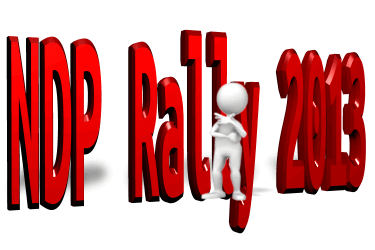 ==========================================================================================================
Our Prime Minister's National Day Rally on 18 Aug, which covered Singapore's future land use development held a clue how Singapore will "try" to accommodate the "stretch target" of 6 million by 2020 and 6.9 million by 2030.  (I'll be in my 50's by then)
Essentially, we'll be freeing up 2 sizeable tracts of land.
First, about 800 hectares of land to be freed from relocating Paya Lebar Airbase to Changi East .  This is the equivalent of about 2 more Jurong East housing estates.  This would help to provide  anywhere between 250,000 to 300,000 residential housing as the new flats (public) and private developments slated to go up would most probably be skyscrapers and height control restrictions lifted for adjoining areas. See below.
Second, by relocating our Tanjong Pagar Port from Tanjong Pagar to Tuas West, another 1000 hectares of land will be released.  This is the equivalent of a Choa Chu Kang New Town and a Toa Payoh New Town.  This future Southern Waterfront City will probably accommodate 300,000 to 350,000 residential housing.
This is the fastest way Singapore will be able to provide housing options for a projected population of 6 million by 2020 from our current population of about 5.3 million.
But hey, the numbers don't quite stack up.  The ports lease will only expire in 2027 before they are shifted and the relocation of Paya Lebar Air Base will only happen in stages over the next two decades and start in earnest only after 2030.
Hence, how are we really going to house the projected increase in population of another 700,000 in 7 years time?  The lack of urgency could mean that the government is going easy on the population target of 6 million by 2020 and 6.9 million by 2030.
There will a property supply glut hitting the market in 2014/16 and that could cater to some extent to the projected increase in population (provided the government is still committed to its population vision).  I advise those who have bought properties to rent out as an investment to be mindful that the rental you should expect is not what you want but what your potential tenant can reasonably afford.  Better to have a rented unit than an empty one, rite?
Our Best, Always!    
The Residential Property Correction – 07 Aug 2013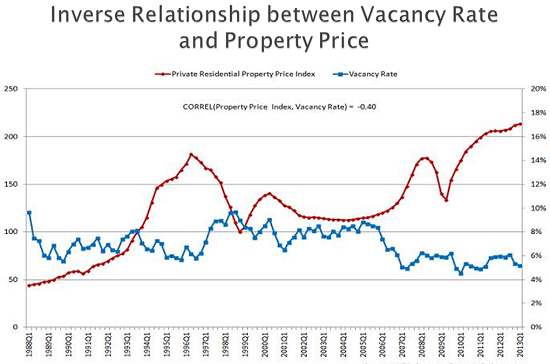 ====================================================================================================
For those who like me have been waiting by the sidelines, your patience will soon be rewarded. Let's first go to basics. In the chart above, it is clear that whenever property vacancy rate is high, property price goes the other way.
And what have we been hearing from the ground? Yes, you have guessed it, or even anticipated it. Landlords, these days are being forced to lower their rental asking price as the bumper crop of condo units supply is flooding the local property market, increasing vacancy rate. This was also reported in the Straits Times on 1 Aug 2013. It won't be long before some of these landlords barely covering their mortgage payments, are forced to make some hard decisions when interest rates start to increase. Will you have enough cash to seize the opportunity when the bargain property deals start to emerge? Even if you do, do you know which ones to scoop up? Come on to our course to find out.

Our Best, Always!
The 2 Rm HDB game changer – 1 Aug 2013
===================================================================================================================
Finally, finally, finally, single Singapore citizens aged 35 years and above, who are first-timers and earning not more than $5,000 a month can buy a new 2-room HDB flat direct from HDB!  They can do so on their own under the Single Singapore Citizen (SSC) Scheme or with other single citizens under the Joint Singles Scheme (JSS).  As my focus is on singles who want their own privacy and not have to share it with another single, the focus of my analysis is on those who purchase it under the SSC for their own stay.
With a family of 4 occupying a typical area of 90 sq m (4 room flat), the 45 sq m area for a single occupier is fair by any measure.  And hey, those earning not more than $2,500 a month can enjoy further discounts.  See the table below.
Grants for Singles under the Single Singapore Citizen (SSC) Scheme
| Income | Total Grant |
| --- | --- |
| Up to $750 | $30,000 |
| $751 to $875 | $25,000 |
| $876 to $1,000 | $22,500 |
| $1,001 to $1,125 | $17,500 |
| $1,126 to $ 1,250 | $15,000 |
| $1,251 to $1,500 | $12,500 |
For those who have bought private studio apartments of similar sizes for investment, their pool of potential local buyers will shrink as more single Singaporeans are hampered by the recent restrictive loan framework (here to stay for the next few years, at least) and eventually accept the idea of paying 70% less for an equivalent 99 yrs leasehold property, albeit in a less convenient non-mature HDB estate.  But with Singapore developing as it is today, how long can a non-mature estate remain so?
Singles who buy a new 2-room HDB flat from HDB will eventually have to pay half the prevailing resale levy for a subsidised 2-room flat when they subsequently buy a second subsidised flat.  However there is no stopping a single from buying a private property eventually once he/she fulfills the minimum occupation period (MOP) of 5 years.  This means assuming the flat takes 3 years to construct, and another 5 years of MOP, the individual has 8 years to invest in the stock market and build up his/her retirement fund.  This is possible because the outlay of a 2-rm HDB flat is low, allowing the individual to have more spare cash to invest in good stocks in the stock market.  How to do it?  Sign up for our course and find out!
Our Best, as Always!