A 2nd tale of 2 condos – Echelon vs Alex – 14 Nov 2013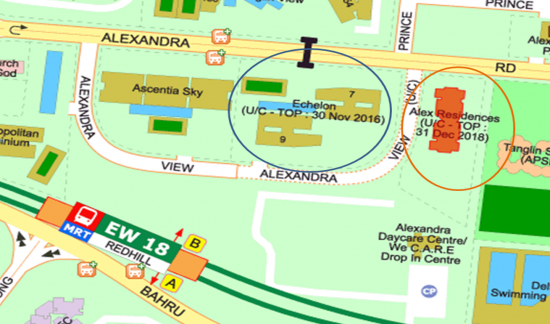 =================================================
1) It happened again.  Just like how Sky Vue was priced lower than an earlier launched next door neighbor, Sky Habitat in Bishan, over at Redhill, a similar phenomenon took place.
2) Alex Residences reported that it had sold 150 units yesterday, out of 429-units at an average price of $1,650 psf.  Just about a year ago, next door condo, Echelon sold at a higher average of S1,767 psf with an exuberant price of $2,474 PSF paid for a 452 sq ft unit in Jun 2013.
3) And guess what?  The land cost for Alex Residences at $970 psf per plot ratio is actually about 29% more expensive than the $754 psf per plot ratio that CDL paid for the Echelon site. More costly land site, yet cheaper psf sale price.  You do the interpretation.
4) Anyway, back to the Echelon condo.  Jeez, surely the buyer of that 452 sq ft unit would be better off purchasing a unit in Duo Residences that was going for about $2,300 psf for its 1 bedder unit, with a lot more upside.
5) Prices are indeed on the slide down.  Those who have exercised some patience have been rewarded.   Watch out for more good deals in the horizon.
Our Best, Always!
Summary of latest cooling measures in Malaysia – 6 Nov 2013

=====================================================
The air-con to chill and rein back property speculation has been turned on full blast in Malaysia with the announcement of Malaysia's Budget 2014.  Right now there is no clarity if it applies to all of Malaysia, or if certain strategic zones such as Iskandar will be exempted.
TO SUMMARIZE
1)      === Real Property Gains Tax ("RPGT") ===
First, a bit on RPGT.  RPGT is imposed on the net gains from the disposal of the property after deducting the acquisition price and other expenses incurred until the property is disposed. Other expenses include stamp duty, legal fee, cost of renovation, commission for sales and administrative payment. RPGT exemption is given for up to RM10,000 or 10% of the net gains, whichever is higher, from the disposal of real property by all individuals.
For Malaysian Citizens and PRs

30%, for properties disposed within three years of purchase
20%, for the disposal of properties held for four years
15%, for the sale of properties held for five years.
0% for sale of properties held for more than five years
For Foreigners
30% for properties disposed within five years of purchase,
5% for properties sold after being held for more than five years.
(Effective date –  For disposal of properties and shares in real property companies from 1 January 2014)
2)      === Minimum price of property that can be purchased by foreigners ===
To be raised to MYR1m (SGD391K), from MYR500,000.
3)      === Developer Interest Bearing Scheme (DIBS) ===
To be outlawed.  Developers can no longer incorporate interest rates on loans in house prices during the construction period. Financial institutions are prohibited from providing final funding for projects involved in the DIBS scheme.
WHAT NOW?
Analysts were largely surprised by the weight of the cooling measures, expecting a lighter touch.  To what extent will savvy investors be put off by the increased RPGT?  One thing's for sure.  The Malaysian government wants you (as a foreigner) to be a long term investor in higher value property, not a speculator.
Our Best, Always!
Property prices creeping back to saner levels? – 6 Nov 2013

================================================================
It was in the news just a week ago.  In the clearest sign of an inventory clearing exercise, The Inflora, a new condo project a short stroll from Changi Prison, a 5km drive from Tampines Mall and nowhere near an MRT station, saw close to 100% take up.  The sweetener? Sub $900 psf pricing.
A week later over in Punggol, albeit less spectacular, an Executive Condominium, Waterwoods managed to move about 30% inventory with an average pricing of $800 psf.
Developers are not taking chances.  Run of the mill projects have to clear ASAP.  For such projects, it is too risky for developers to hold out for high prices and wait for buyers to blink.  In the latest set of property statistic released by URA on 25 Oct, several interesting numbers caught our attention.
As at the end of 3rd Quarter 2013, there was a total supply of 84,917 uncompleted private residential units in the pipeline. Of this number, 36.5% remain unsold.  If we include 12,436 EC units also in the pipeline, the upcoming inventory stands at 97,353 units.  Buyers have choices.  Lots of choices, in fact.
Let's pile it on a little more.  Another 10,025 units from Government Land Sales (GLS) sites will be added to the pipeline supply. Including these units, there will be about 107,400 private housing and EC units in the overall pipeline supply, many of which are expected to be completed in 2 to 3 years.
It is no wonder then that a concerned Real Estate Developers Association of Singapore has called on the Government to "calibrate" its land sales programme.
Vacancy rate wise, for completed private residential units, it has increased to 6.1%, up from 5.6% in the previous quarter.
We seem to be approaching an inflexion point in the private residential property market cycle. What will Q4 2013 statistics from URA reveal?
Our Best, Always!