A Little Pressure Brings Out the Best in High Park Residences – 20 Jun 2015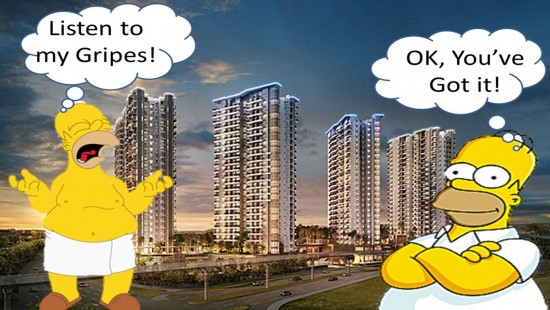 Most will agree that a little pressure brings out the best in people. This might also apply to the developer behind High Park Residences, located just behind the famous Jalan Kayu eatery stretch, next to Thanggam LRT station and a 5 minutes walk from Seletar Mall where Shaw Cineplex is located.
A cooled property market appears to have brought out the best in High Park Residences' developer, CEL Development. We studied the specifications, floor plans and site layout of the project and are pleased that CEL Development has addressed the common gripes of most purchasers these days.
Gripe 1: The units are so close together, I can see the logo of my neighbour's Polo Tee in the opposite block!
High Park Residences Counter: By combining 2 plots of land into a single plot, a larger plot of 366,000 sq feet was created, allowing the space between one block to the next adjacent block to go up to 74 m (243 feet)! All units will be bright and airy due to the generous space allowance between the 6 blocks. Due also to the large combined site, blocks are positioned for predominant north-south facing.
Gripe 2: The 2 bed-roomers come with only 1 toilet. This is very inconvenient either for own stay or for renting out.
High Park Residences Counter: The majority of 2 bed-roomers comes with 2 toilets!
Gripe 3: Maintenance fee is high these days!
High Park Residences Counter: With economies of scale from having 1,376 units, maintenance fees can be kept low. The fees are estimated to range from about $188 to $275 for condo units and $320 to $360 for strata houses.
Gripe 4: Not every condo project comes with one car park lot per unit.
High Park Residences Counter: One car park lot per unit is the default for all condo units in High Park Residences.
Gripe 5: It's rare to see strata houses in condo developments these days.
High Park Residences Counter: The project will have 4 Bungalows and 10 Semi-Detached houses. And each will have 2 carpark lots!
Gripe 6: Condo amenities can be so crowded
High Park Residences Counter:  A large plot means amenities can be spread out to reduce overcrowding. 2 tennis courts and a half basketball court are one of many features provided for this project. There is also enough space for 8 shops and a childcare centre.
Gripe 7: When will we see prices of new launched private condos (Not ECs) below $1000 psf
High Park Residences Counter:  Although prices have not been firmed up, the average price is expected to be below $1000 psf.
That CEL Development took consumers' feedback seriously is reflected in the specifications of this mega project. In a cooled property market that has developers struggling to sell more than 40% of total units in a project, this could make that significant difference in moving inventory. Booking starts on the 17th July and we'll be visiting the showflat on the 4th July!
Our Best, Always!