Do you REALLY want a property market crash in Singapore? – 8 Apr 2015
Just last week, I was having brunch with LL. She asked if the property market would correct further downwards.
"But it has already corrected 20% for some property owners," I replied.
"Really?" she asked. "How come it's not in the news?"
===================================================================
As if we were being eavesdropped, URA a few days later, published a study which compared residential median prices between two periods – H2 2013 and six months to end-Q1 2015; Q3 2013 was a peak for URA's private residential property price index (PPI).
For the projects selected, the difference in median size of units transacted in the same project did not exceed 10 sq m across the two periods. This helped to ensure that the comparison is meaningful as units with different sizes fetch significantly different $psf.
In URA's study, three residential projects cried for attention.  See the picture above. Two are completed and the other is under construction. Like I pointed out to LL correctly, the downward price corrections of 20% and more that I had observed are not in the mass market condos but condo projects in the prime areas.
For some of these prime property owners, they already feel the heat of the market correction. Some have surrendered and sold off at a marginal profit or loss.
Will we then see a property price crash across Singapore?
For this to happen, a lot of things must go wrong. Very wrong. Below are some nasty scenarios working independently or together that will make such a precipitous drop a reality.
1)      Terrorist attacks in Singapore
2)      MNCs shift out of Singapore
3)      Mortgage rates spike beyond 3.5%
4)      Unemployment rate spike
5)      Malaysia turns off Singapore's water supply
6)      Another global crisis
The question to ask yourself is, do you really want any of the above scenarios to happen? Because the properties that you currently own will be adversely affected too.
Our Best, Always!
Which Property Development is a Better Buy? – 7 Apr 2015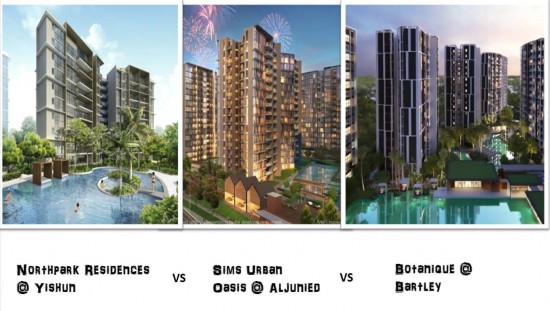 In September 2013, Fraser drew gasps from the market when it bid S$1.43 billion, a whopping 48% higher than the second highest bidder for the site that it would eventually build Northpark Residences and a mall to be integrated with the upcoming air conditioned bus interchange next door.
Fraser's winning bid works out to be S$1,077 psf per plot ratio. It could have walked away the winner at S$733 psf per plot ratio but a lot was at stake. Losing the bid would mean that a rival's shopping mall could choke off Northpoint Shopping Centre, the current shopping mall at Yishun Central, managed by Frasers Centrepoint Trust.
Fast forward to Apr 2015. Fraser could have launched much earlier in 2015 but it wanted to wait for 2015′s first mega residential property launch Sims Urban Oasis. Fraser needed data to understand how it should price Northpark Residences, the only component of its integrated development for sale.
As property construction costs have gone up over the past few years, there was no way it would launch at the average price of the most recent large scale integrated development, Bedok Residences, which cleared most of its units at an average price of $1,200 psf.
The breakeven price for NorthPark Residences is easily S$1,400 to $1500 psf. Selling it above that range in today's market would be overly risky. I had expected Fraser to go for a quick sale.  Cash flow is crucial to build the entire development as the bigger prize is the new shopping mall (NorthPoint City) which would add value to the group once operational, and hived into Frasers Centrepoint Trust. Selling between $1,300 psf and $1,400 psf for the residential units would move the 920 units and indeed, latest market data has shown that the prices of units sold at NorthPark Residences' soft launch fall within this range.  Selling within this range also puts it in a competitive position vis-a-vas rivals Sims Urban Oasis and Botanique @ Bartley, both of which are closer to town.
For property investors, this makes selection more interesting. All three property developments are going for between $1200 psf to $1,500psf. Which would give you the rental yield for a net positive cashflow after mortgage payment? Which would have more upside for capital gains? Which should you go for?
Our Best, Always!
Share our postings, be our Facebook Ambassador and win prizes!
* Download "Empower Advisory" App on your mobile phone/device to get INSTANT Updates on Deals, Events and More!
* Simply Scan the QR Code on the left using your mobile phone, follow the link and install the App!
* If you are already accessing this page on your mobile phone, click on the QR Code, follow the link and install the App !