Geylang Rezoning (What it all means) – 21 Jan 2015
1) On 13 Jan 2015, URA proposed to rezone the area bounded by Geylang Road, Lorong 22 Geylang, Guillemard Road and Lorong 4 Geylang from Residential/Institution to Commercial/Institution to prevent "spillover of disamenities to surrounding areas". This area is pretty large (affected buildings are in blue) and covers effectively most of the even numbered Geylang Lorongs where the legal meat trade outlets are located.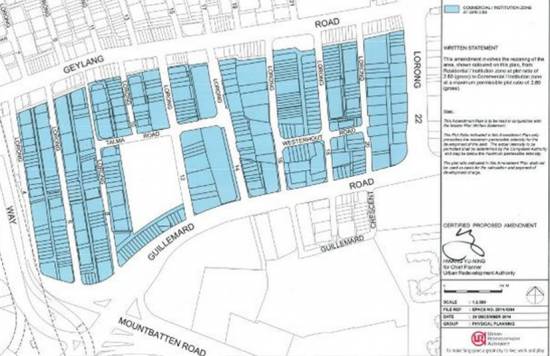 2) Some people rejoiced, thinking that this would mean the affected area would be eventually developed into offices and retail shops. The legal Geylang meat trade outlets will be relocated somewhere else.
3) Because I had served in the civil service, I read between the lines of a government press release.
4) If the location of a single columbarium building could cause so much angst among Singaporeans, do you think the government will risk moving an entire meat trade district somewhere else? Perhaps to Tuas or Loyang, as popular rumours have it? No way.
5) From this rezoning, it is very clear that the government intends to let the legal meat trade outlets in Geylang remain where they are, but this time with a more determined approach not to have that boundary breached. After all, the meat trade is a commercial activity and fits right into the commercial/institution classification. Today, you can see a few meat trade outlets operating beyond Geylang Lorong 22, further up towards the larger "even numbered" Lorongs. It is possible that the government will close or relocate such outlets that currently fall outside the boundary within the aforementioned boundary .
6) Quite a number of condo units within this boundary are leased out to meat trade workers. We have observed this in our due diligence around the neighbourhood. These landlords will be grinning away, knowing that there will be no increased competition from new residential developments within the boundary. In future, there will only be about 1300 to 1500 individual condo units in this boundary.
7) What could happen then is that private developers might explore enbloc purchases within the boundary to develop f & b night-life projects. Such entertainment facilities will still fit in with the meat trade industry there. Large scale office and retail developments are not likely to follow as most mainstream businesses and retailers shun a location within a meat-trade district.
8) The meat-trade may eventually be housed in high rise commercial buildings within the boundary and if successful, might then kick start urban gentrification within the boundary. However, if they remain scattered like they do now in one-storey houses, it is unlikely to happen.
Douglas
Our Best, Always!
Share our postings, be our Facebook Ambassador and win prizes!
* Download "Empower Advisory" App on your mobile phone/device to get INSTANT Updates on Deals, Events and More!
* Simply Scan the QR Code on the left using your mobile phone, follow the link and install the App!
* If you are already accessing this page on your mobile phone, click on the QR Code, follow the link and install the App !