The amazing 164% returns of Singapore O&G – 5 Oct 2015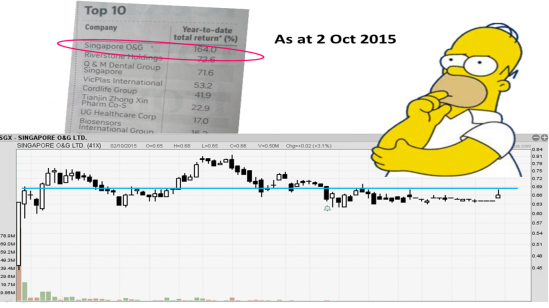 I was pleasantly surprised to read in the Straits Times on 5th Oct that Singapore O&G, medical practitioners in women's healthcare – Obstetrics and Gynaecology ("O&G") field which listed on the Catalist on 4th June has returned a whopping 164% to date, closing at 66 cents on 2 Oct 2015. This company is one of the listed healthcare related companies that the Straits Times deemed to have gone against the trend of the overall market downturn.
How did Singapore O&G pull off such a stunning performance? I decided to dig further and realized the 164% return was calculated from its IPO price of 25 cents.
Singapore O&G share price surged up upon its IPO debut and closed at 63.5 cents. So if you were to compare its first day closing price to its most recent close price of 66 cents, it's not so spectacular after all. The increase over 4 months is less than 5%.
However, if you were to chart its share price, it is not exactly the ascending pattern that you might have expected. So who actually benefited from the 164% increase?
The bulk of the beneficiaries are folks who got placement shares ahead of the public. They got 41.4 million placement shares. Who are these lucky by-invitation-only folks? They are most probably friends of the directors of Singapore O&G and special clients of brokerages. They paid a total of $10.35 m for the placement shares. As for the public, only 2.2 million shares were made available to them for balloting and the amount raised was a paltry $550,000. As for the directors/founding shareholders of the company, their issued share price was as low as 2 cents. They are the biggest winners of course.
Why set an IPO price of only 25 cents? Setting an IPO price low enough to pop in price on a company's trading debut rewards placement shareholders who can sell the shares instantly at a fantastic profit. If the company directors/founding shareholders are not locked in with selling restrictions, they too will be able to cash out handsomely. A pop will also provide free media coverage as reporters will be scrambling to cover Singapore O&G's stunning Catalist debut.
Are there no losers?
If you look at the price chart of Singapore O&G, you'll see that the stock is actually pretty much trading sideway. It hasn't been sky-rocketing like what the eye catching table might have suggested. Many folks have bought at prices beyond 66 cents (See candlesticks above the blue line) and will feel no joy. Were they overly enthralled by Singapore O&G stunning debut? Some are staring at up to 23% loss, paper or realized. This company is not consistently traded. Some days, the number of shares traded is less than 500.  On 29 Sep 15, no shares changed hand.
No doubt, after people read the exciting table in today's Straits Times, some will simple punt several thousand dollars and more on Singapore O&G to hopefully ride another 164%. Will a whooper return materialise?
The takeaway is to be discerning with what you read, beyond glossy headlines. Be savvy enough to analyse the business of the company you are investing in and its stock behaviour. I also hope you now understand some of the  motivation behind the "low" pricing of IPO shares.
Our Best, Always
See you at our regular free investment outreach!
To reserve your seat (date to be confirmed for 2016), you can click the icon below.

Do continue to stay connected with Empower Advisory via our Facebook Page, for enriching updates.
Our Best, Always
Empower Advisory
Share our postings, be our Facebook Ambassador and win prizes!