Putting Our Investment Theory into Practice – 26 Nov 2013

==================================================
1) At the most recent outreach at Bras Basah on 23 Nov, I flashed on screen an investment position I made on Zynga on 15 Nov 2013 at 4 USD.
2) Prior to that, I had mentioned to the outreach participants that in stock investment, one must not be greedy and aim to sell at the peak.  If you think like that, you will never sell but forever looking towards the next peak (If it comes).
3) On Monday, the indicators I use suggested to me that Zynga might pull back.  Without second guessing, I decided to lock in a 11.25% gain by selling at 4.45USD (near its 1 yr high of 4.55).  I placed my order and closed my computer.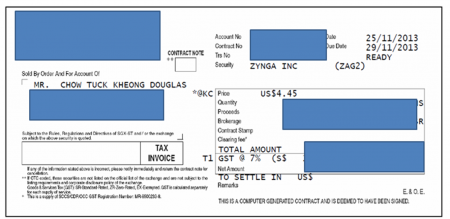 4) The next day, I was pleasantly surprised that it closed at 4.50.  Did I scold myself for not selling at 4.50?  Of course not.
5) First, whoever had bought from me had made 1.1% (on paper or realized).  I was happy someone else had gained too.
6) Second, I had locked in a profit of 11.25% in just 10 days in a non-speculative investment trade.  (Not crazy spectacular but a happy early Christmas present nonetheless). Why did I call it a non-speculative investment trade.  Zynga is no penny stock like Blumont.  It is a company with more than USD1 billion in sales and develops, market and operates online social games over the Internet, mobile platforms and on social networking sites like Facebook.   It is still loss making but has recently improved its performance with a management and product focus overhaul.  It also has a large cash hoard to buy itself time to become profitable.
7) This is why you have to combine fundamental analysis with technical analysis to give yourself a better picture.
8) Am I still monitoring Zynga's performance? You bet. There's more profits to be made if you know how.
9) Once you know you can make double digit returns in a matter of days by yourself, you will never be attracted to scams that try to hook you by "promising" you 8 to 20% yields in a loooooong yr (365 days) or more.
Our Best, Always