From stock zero to stock hero and back again -10 Oct 2013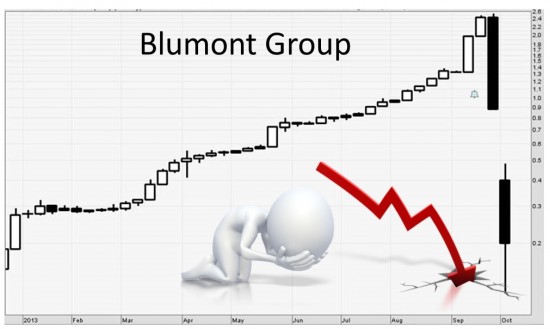 =========================================
If not for Blumont Group making the news because of its spectacular fall from a Thursday's close (3 Oct 12) of S$2.02 to 88 cents and finally to 13 cents the following Monday, we wouldn't have known about the existence of this company listed on SGX.
What business is this company actually all about?  How could it lose more than 90% in value in the space of a few days?  Did the earth open up and swallow its business and employees?
A quick check on this company revealed that it has three core business segments including Investment Holding, Sterilisation and Property. Since the start of 2013, it made exuberant announcements of forays into the energy sector specifically in Iron Ore, Thermal and Coking Coal, Coking Coal, Gold and Uranium and Copper through a series of sales and purchase agreements.  Imagination manifested into hopeful optimism and rocketed what was a down-beaten illiquid 3 cents penny stock back in 2012.
Those who have hopped on the bandwagon early in the stock advance, would have won bragging rights of snagging a multi-bagger. Good for you and we hope you had locked in your profits before the share price meltdown.  If not, you're almost back to square one.  Those left carrying the ball after the stock price plummeted will definitely feel angry and lost.  Why would Blumont not even figure on our radar? Its most recent 2Q 2013 results revealed a loss of SGD24m.  Yet when this was announced on 29 July 2013, the stock continued to rocket from 94 cents to a peak of $2.54, no doubt partly on the buzz of the company's positive announcements (no actualized profits yet).  The ever ascending candlestick stock price chart with nary a break if you noticed, looked unreal to us.  All in all, there are more questions than answers regarding the stock's quick ascent and even faster collapse.   SGX is currently investigating.
There are many good stocks with real underlying business and positive financials.  Just yesterday, we longed a logistic company stock at 10.3 cents and are up 2% the next day by combining our usual blend of fundamental analysis with technical indicators.  And yes, we are having a good night sleep over our latest investment!
Our Best, Always!