The Art of Profit Taking (lessons to share) – 19 Jul 2013

==================================================================================
Participants at our course preview in June would have known I bought Microsoft at USD28.08 a couple of months back. After the dramatic drop in Microsoft shares following less than stellar earnings, some have asked with concern if I had exited in time.
Here is the good news. I have and the proof as usual is in the pudding. See below.
I sold off near the peak 2 days before Microsoft announced its earnings. What did I do right? Did I have insider information? It's simple. I always keep tabs on my stock. I don't obsess over them but I will know major news concerning them. Prior to the earnings results, Microsoft announced that it was slashing the retail price of its surface tablets by USD150. That is almost 30%. It means that Microsoft wants to gain tablet market share by sacrificing profits. While the market cheered Microsoft's move, it worried me a little. I also suspected that it was the tip of an iceberg. Perhaps inventory of PCs were not moving very much (And hence Microsoft software) and so Microsoft had to push out its tablets faster, more aggressively.
Fundamentally, the signs to sell were there. The technical indicators looked good though. Sentiment was still upbeat for a favorable earnings report from Microsoft. And so i decided to sell into strength and sold my entire stake at US36.40 (not at the high of USD36.44 but near enough) and made about 30% profit. Not spectacular gains, but decent enough for me. I'm not greedy and hope the one who bought from me at USD36.40 will make some money eventually. If I had hesitated and not sell, I would have made only 11% profit.
Did Microsoft become a lousy company overnight? Of course not. It just didn't meet high expectations but it is on its way to a restructured growth path. I'm now exploring if there are new entry price point for Microsoft.
My best, as Always
Where is the Singapore Stock Market headed? – 20 Jul 2013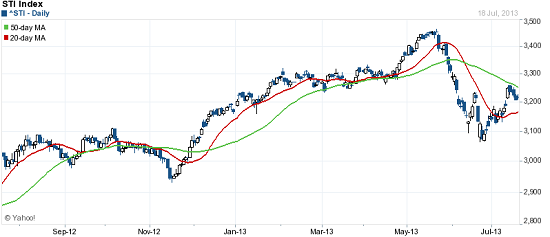 ==========================================================================================================================================================
As you can tell from the chart above, the Straits Times Index is struggling, having plummeted more than 400 points from its high this year and is currently testing the 50 days Moving Average resistance level. Whether it can break through is anyone's guess and will depend on our corporates' earnings report card for 2Q2013, to be released sometime in Aug/Sep.
As an investor, which sector would you focus on to pick up value buys? Would it be the traditional favorite oil and gas sector? Or would you go for the penny stocks? At this juncture, do your homework and buy into companies that have concrete growth plans and sustainable order books to tide them over the year. With the US market taking a breather after a record all time Dow Jones high of 15,542 and doing a double take on its corporates' earnings to determine if the run up is built upon solid fundamentals or optimism, our market appears to be cautiously tracking back. It is not entirely rosy in the US. Once the very symbol of American industrial might, Detroit became the biggest U.S. city to file for bankruptcy two days ago. Although not serious enough to bring down the US economy, it suggest that US is still grappling with its economic restructuring, one that has moved jobs away from cities such as Detroit and left them with more expenses than their tax collection can cover. The US economy is not out of the woods yet. And neither is the global economy.
Our Best, Always!